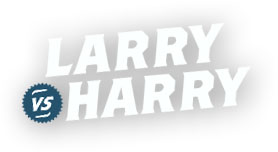 Larry vs Harry. Bicicletes de càrrega Bullitt
La nostra relació amb Bullitt ve de molt lluny, quan Bullitt presentava per primera vegada les seves bicicletes de càrrega a la fira Eurobike d'Alemanya. Vam estar amb ells i fins i tot vam anar a sopar plegats. En aquell moment el sector de les bicis de càrrega era molt incipient, però ja començava a haver-hi certa moguda. Vam veure clarament que aquelles eren les bicis més ràpides i robustes del mercat de càrrega i que serien tot un referent. En aquell moment ja les vam incorporar en el nostre catàleg.

Durant anys les Bullitt han anat evolucionant, millorant, incorporant accessoris essencials i convertint-se efectivament en tot un referent en el món de les bicis de càrrega. Missatgers, famílies, cicloturistes o simplement bici addictes són els seus més fervorosos seguidors. Ja hi ha el que podríem considerar la cultura Bullitt, i les Bullitt són segurament les bicis de càrrega més fotografiades del món.

Si vols començar un negoci de missatgeria, vols portar els nens a l'escola, vols moure paquets entre diferents seus de la teva empresa, vols guanyar la propera carrera de bicicletes de càrrega o vols substituir la teva furgoneta perquè el teu negoci sigui el més ecològic possible, contacta amb nosaltres que t'ajudarem a definir la teva Bullitt ideal. L'última novetat de Bullitt és un model elèctric amb motor incorporat en el quadre que la fan un vehicle sense equivalent. Hem estat els primers en vendre'ni una a la península. La capacitat total de càrrega d'una Bullitt comptant el ciclistaés de 180 quilos. El pes total de la bici és d'uns 22-23 quilos segons els components que munti.

Partint d'un color de quadre, li muntem el sistema de transmissió que es desitgi i els accessoris complementaris:

Colors: Sugar, indigo, pepper, submarine, bluebird, clockwork, classic, raw, lizzard king, race i milk plus.
Transmissió: Singlespeed, Shimano Nexus 7, 8 o 11, Shimano Deore 27v, Shimano XT 30v o opció elèctrica.
Accessoris: Caixa d'alumini, Convoy, funda protectora, Canopy, selló per 2 nens, caixa de plàstic, Honeycomb, Billboard, panel lateral BBX.

Web del fabricant: Larryvsharry - Bullitt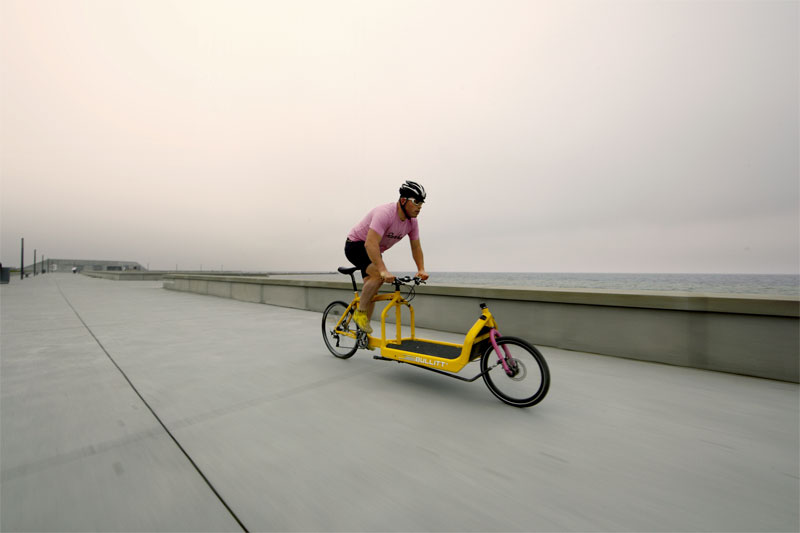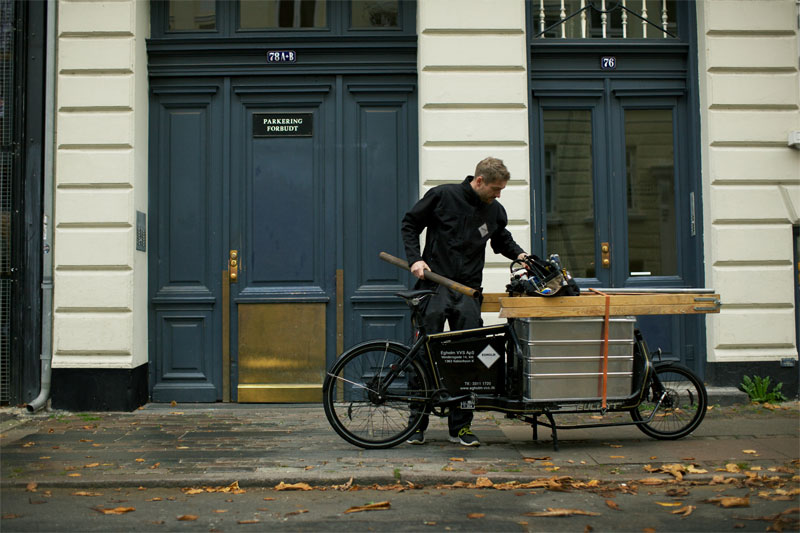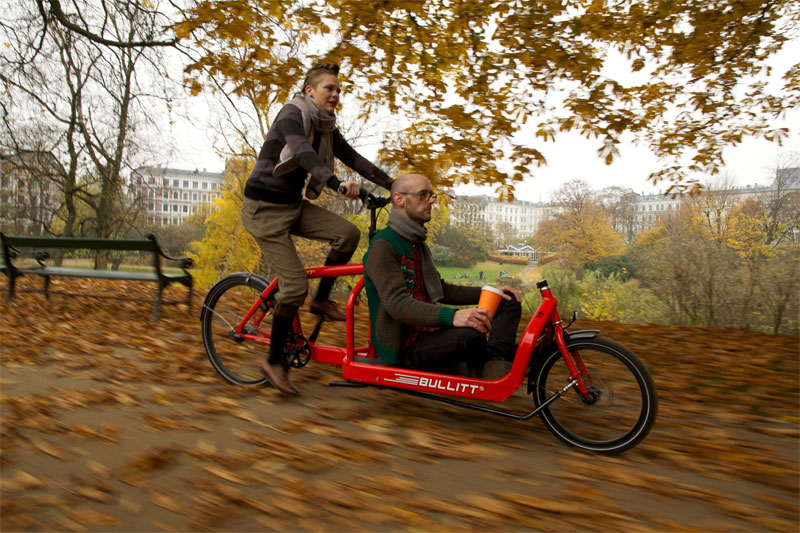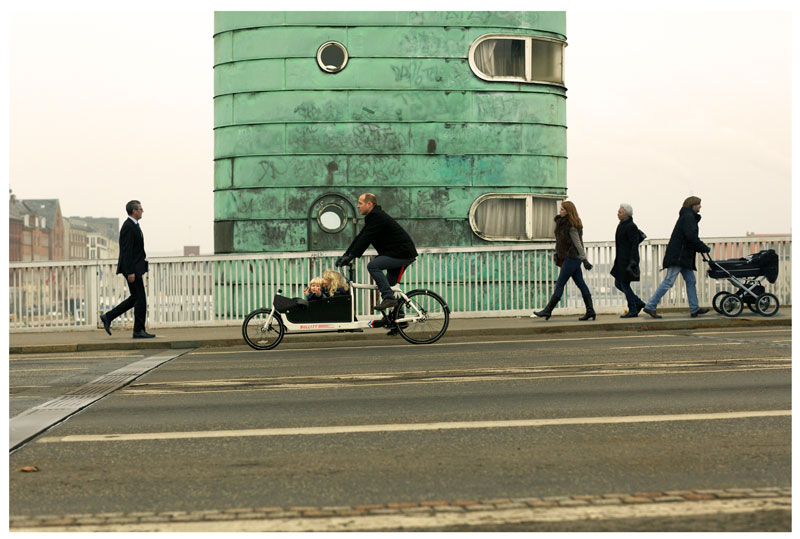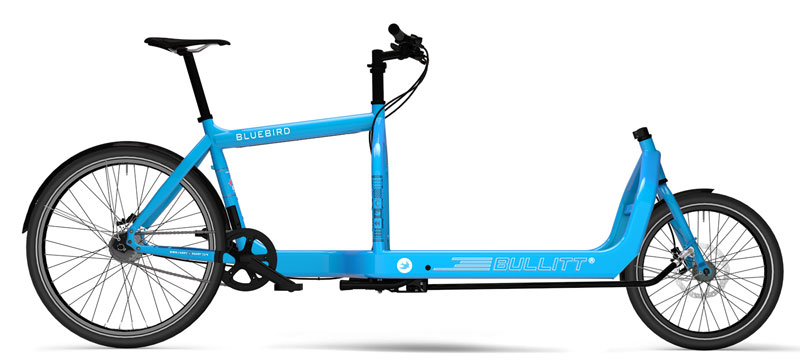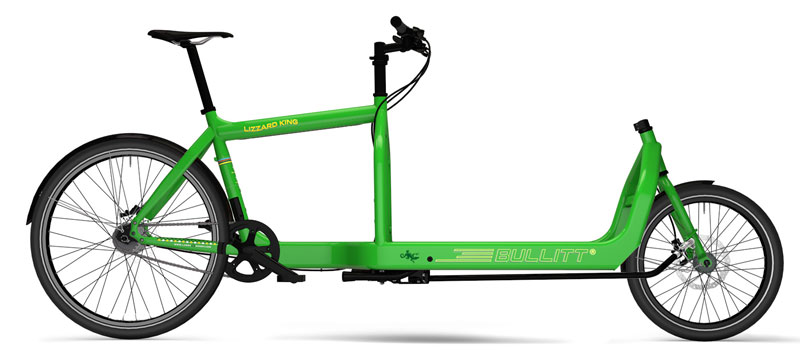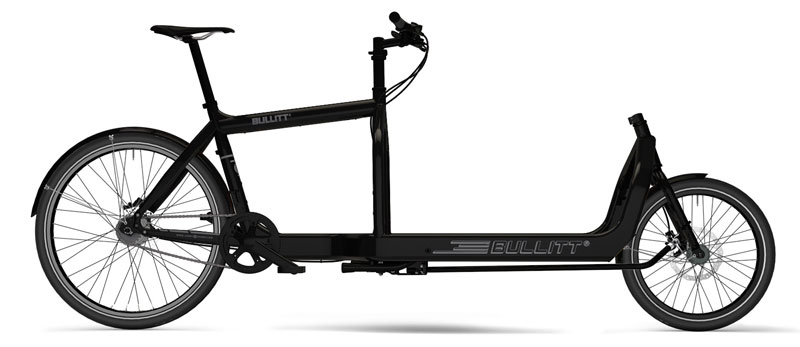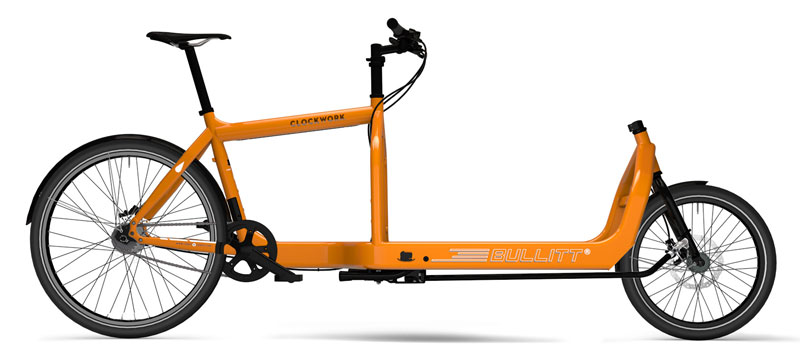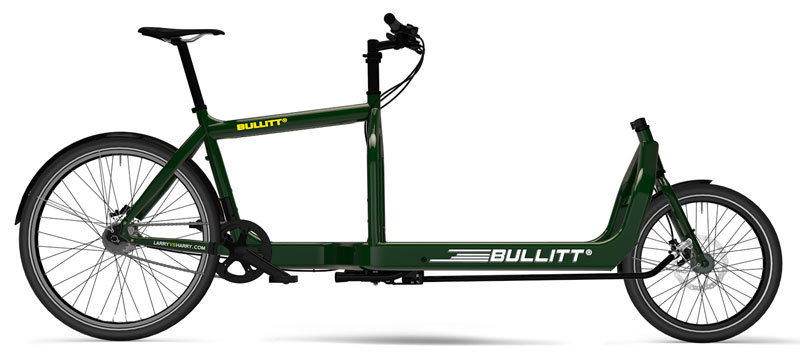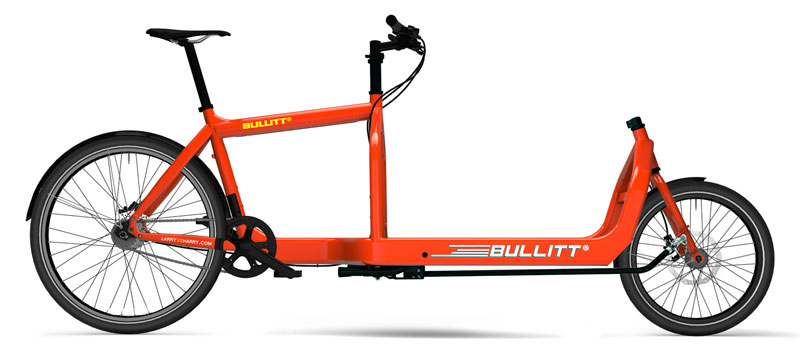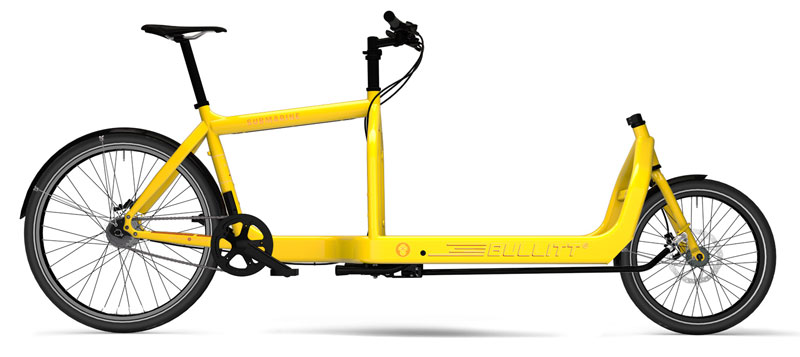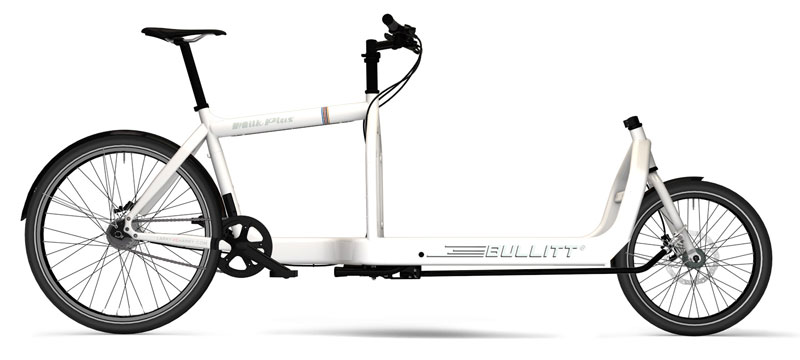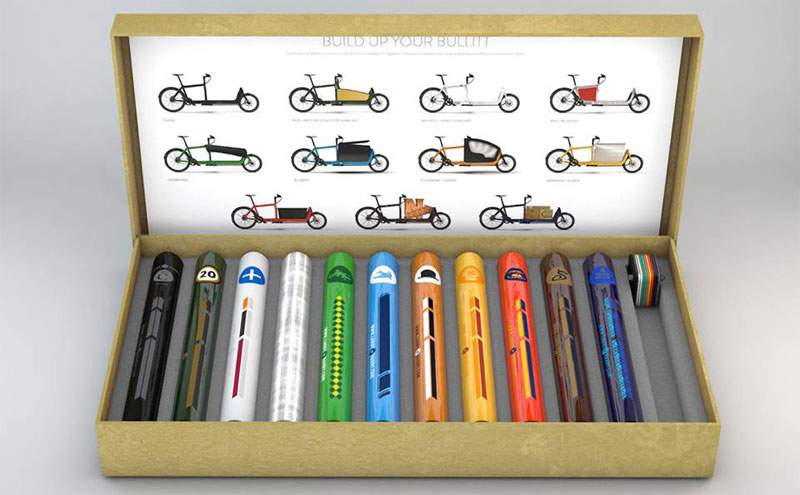 7005 / T6 heat treated aluminium
31,6 mm
English thread 68 mm
Aluminium , 50 mm
EasyUp, 100 mm extension
100 mm

Recommended sizes of discs

180 mm front, 160 mm rear.

Front disc brake cable length

2350 mm

Rear disc brake cable length

1400 mm
20",maximum size of front ture is 20 + 2.0
Rim size 461 in combination with a front tyre 22x32mm
26" , maximum size of rear tyre is 26" + 2.0
700C in combination with a rear tyre 700Cx32mm
FSA Orbit XL II
FSA Orbit XL II
CroMo with alloy CNC parts.
CroMo BMX type
CroMo ,713 mm
* Balljoint connection to front fork is rubber covered
for improved weather protection.
Reinforced aluminum with replaceable plastic feet
All bolts,nuts and washers are stainless steel.
| | |
| --- | --- |
| Framekit, with fork & kickstand | 11,5 kg |
| Steering arm, steering rod, EasyUp, spacer & front clamp | 2,2 kg |
| Complete 8-speed Bullitt | 22,3 kg |
| Complete 7-speed Bullitt | 22 kg |
| | |
| | |
| Lightest complete Bullitt so far | 17,6 kg |
| Honeycomb board & attachments | 2,8 kg |
| Sidepanelkit (attachments and cover) | 3,8 kg |
| Canopy (attachments and protective sidebars) | 5,7 kg |
| Foldable Seat | 3,4 kg |
| Damper kit | 0,6 kg |
| Billboard + attachments | 0,5 kg |
| ABUS Protectus 5000 framelock | 0,8 kg |
| Alubox 135 litre volume | 7,0 kg |
| Convoy Box 145 litre volume | 13,0 kg |
| | |
| Max Capacity (Including the rider) | 180 kg |